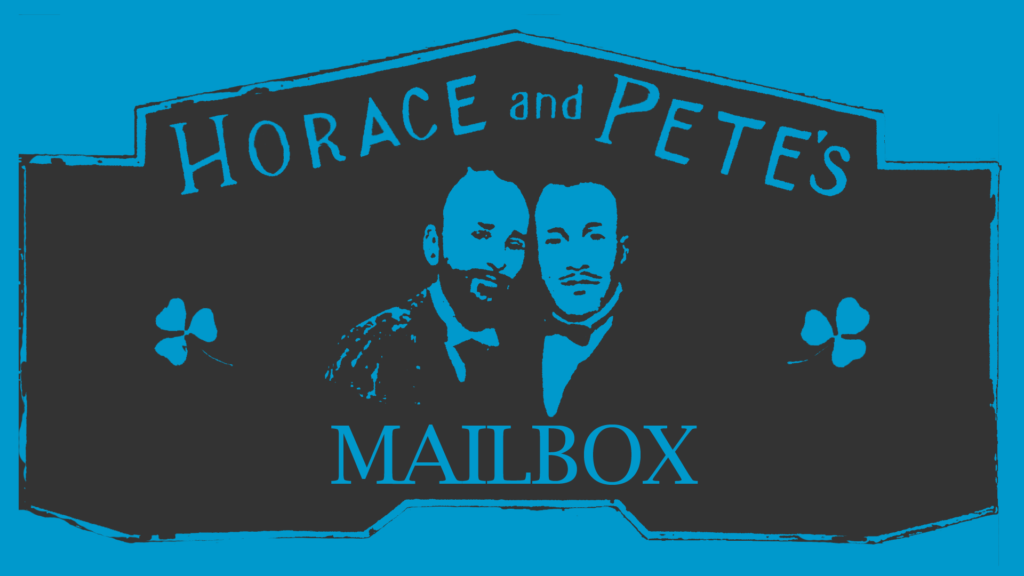 Louie, Louie, Louie, LOOOOUIE.
Louis C.K. is a lot of things. Comedian, filmmaker, auteur, and expert marketer. Wait, what? Ohhh, marketer — no, no Louis is NOT a marketer you're saying to yourself.
Louis is a pure comedian who shoots from the hip. He is so anti-marketing, it's not even funny. Well, my friends, you're wrong.
Louis has built a persona around not caring about marketing and just putting his stuff out to the internet. It's true, he does often post his stuff online without much fanfare. Most recently he created the much talked about show Horace and Pete, which he self financed and self-distributed through his website louisck.net.
In 2011 he put out a stand up special directly on his website, and last year he did the same thing with Louis C.K.: Live at the Comedy Store. The Hollywood Reporter stated, "The special cost virtually nothing to make, was sold for $5 a pop and grossed a reported — and astounding — $4.5 million in the first two days after it was posted. It also wound up with an Emmy nomination for best variety special and an Emmy win for best writing for a variety special" 
$4.5 million with very little marketing? Are you kidding me? How is that even possible?
Now, you may be saying to yourself, "I just heard that Louis is millions of dollars in debt because of Horace and Pete, I couldn't do that." Well, you're right and you're wrong. As Vulture pointed out: "C.K. told Stern he made H&P for around $500,000 per episode, which would translate to around $5 million for the first season. That's much cheaper than a typical TV show. On average, industry insiders say a network drama comes in around $4 million per episode, give or take a few hundred thousand dollars, while a half-hour comedy might cost between $2 million and $3 million. In order for C.K. to have broken even on his show at the production cost he quoted Stern, he'd need to get just shy of 162,000 people to buy the full season for $31. That's not a small number of people, but it's also not entirely unrealistic. Back in 2011, before all of us were used to streaming full seasons of shows via Netflix, C.K. told Jimmy Fallon that 220,000 fans had paid $5 to download one of his comedy specials. Five dollars is not $31, of course, but C.K. had reason to think he had an audience for his show."
In other words, Louis is in with Horace and Pete for the long run, he will make his money back in the long run, and he was able to put out an incredibly unique piece of television. In the distribution section of WikiPedia for Horace and Pete, they talk about how Louis released the first episodes ONLY to his email list:
The first episode was released on January 30, 2016, with no press or previous mention. Subscribers to C.K.'s mailing list received an email notice of its availability. It is a continuation of the sell-through direct-to-consumer model that C.K. used successfully in prior releases of content. C.K. said he would eventually sell the show to another outlet (i.e., a cable and/or streaming service), but wanted to use this sales model as a fun experiment to innovate distribution.
C.K. explained that the direct-to-consumer, sell-through model of pricing the pilot at $5 would allow him to produce following episodes. On his website, he discussed the challenges of creating, shooting, and releasing a multi-camera TV show and addressed the pricing, revealing a tiered cheaper price for the remaining episodes of the show: $5 for the first episode, $2 for the next, and the $3 for the rest of the episodes. The show has a very short production-release model, as episode 2 was being shot the week following the pilot, and was released a week after the first episode was made public, with following episodes to come. Episodes had no predetermined running time, ranging in length from 30 minutes to 67 minutes. The closing credits for episode 5 include the notice: End of Act 1. At the close of episode 10, C.K. announces "That's a wrap on Horace and Pete" while the cast applaud in a kind of curtain call. Shortly after the final episode was released, C.K. revealed that guest actress Amy Sedaris, a late casting decision, had developed her own character and improvised all her dialogue.
Horace and Pete's production, marketing, and distribution model sparked much debate over the strategic, financial, creative options available to content creators. C.K.'s work was compared to Kanye West as both navigate funding singular artistic visions that focus on creative control and in C.K.'s case, distribution, funding, and publicity methods outside the typical television model.
C.K., during an extensive discussion with fellow comic Marc Maron, said that he wanted to open source the process by which he created the show, transparently sharing as much information as possible so others might be able to adopt and learn from his experience
Louis used primarily his email list to get the word out about his shows, not only with Horace and Pete, but his earlier stand up specials. Why is this?
Online marketer Pat Flynn has this to say about email lists:
One of the biggest mistakes I made as a blogger and business owner was not starting an email list right from the start. An email list is important because it's the most direct way to communicate and engage with your fans and subscribers. If you are planning to sell something, the list is often the primary money maker.
You'll often hear a saying in the internet marketing world: "The money is in the list."
It's true.
Furthermore, you can always take your list "with you" where ever you go. For example, if the  blog died for whatever reason I would still be able to directly contact a great percentage of my followers. Without my list, I'd have to start again from scratch and it could take years to get back to where I was."
Louis knows that email is the BEST way to engage his audience. According to various stats, email performs wayyy better than any other type of online marketing:
1) Email marketing yields an average 4,300% return on investment for businesses in the United States. (Direct Marketing Association)
2) Companies using email to nurture leads generate 50% more sales-ready leads and at33% lower cost. And nurtured leads, on average, produce a 20% increase in sales opportunities compared to non-nurtured leads. (Hubspot)
3) Small business owners estimate that getting an extra hour in their day back from doing their own email marketing (and other activities) is worth $273/hour. (Constant Contact)
4) For every $1 spent on email marketing, the average return on investment is $44.25. (EmailExpert)
5) Marketers consistently ranked email as the single most effective tactic for awareness, acquisition, conversion, and retention. (Gigaom Research)
6) Email conversion rates are three times higher than social media, with a 17% higher value in the conversion. (McKinsey & Company)
7) Email is nearly 40 times better than Facebook and Twitter at acquiring customers. (McKinsey & Company)
8) 70% of people say they always open emails from their favorite companies. (ExactTarget)
9) 95% of those who opt into email messages from brands find these messages somewhat or very useful. (Salesforce)
10) You have just 3-4 seconds to grab your readers' attention and interest them enough to open and read your email. (Litmus)
Email is the best way to engage your audience. In my next post, I'll take you through step by step how to get your email list off the ground and which email provider we like best.
Have you had good experience with building your audience via email? Let us know in the comments below!
LIKE WHAT YOU'VE READ?
If so, please join our exclusive weekly filmmaking and production tips, and get a FREE COPY of our guide, The Top 4 Ways Filmmakers Can Make Money Online!