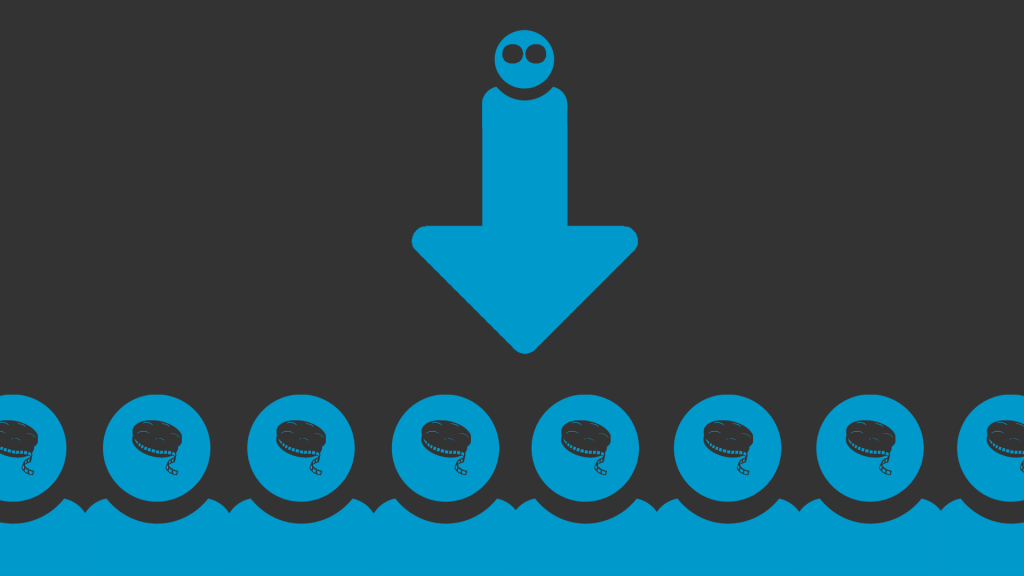 The biggest turning point for me when starting out was realizing I wasn't alone. As I mentioned in my informational interview post, local associations are the best place to start your journey. The problem for me when I was starting was the cost of joining my local association. It was only a couple hundred dollars per year, but it was still too much since I was fresh out of college and being as frugal as humanly possible.
My solution to this problem was volunteering three days a week at my local film office. Lots of local organizations would kill to have a couple extra hands around to help with their events, outreach, and office work. When you volunteer you won't be doing anything spectacular during your day, but you'll be given a huge opportunity to interact with people way above your pay grade.
Try to volunteer for as many community events as possible. This will get you in a room with a lot of people in the industry for free. It's also a perfect opportunity to strike up conversations with people who you normally wouldn't have access to without coming off poorly.
Since you are volunteering you will be seen as giving value to the community. In my opinion, this is so much better than paying for a networking event because if you pay, you're just like everyone else. Equal playing field. If you volunteer, you are automatically seen as someone willing to help. This sets you under the right light.
Volunteering for events in the community also sets you up well for informational interviews and finding mentors. When you're at the event be ready with a business card. Yes, business cards are antiquated, but they still serve their purpose. The card doesn't need to be anything special. When I first graduated and had nothing to show, I had:
Michael C. Hall
Recent Graduate from the University of Oregon
Email Address
Phone #
Website
Having your website listed is great because you can aggregate everything you've created there – LinkedIn, Twitter, Facebook, Vimeo, YouTube, etc. If you're hesitant to create a website, don't be. It's super easy and something you can pull off in less than ten minutes, we have a blog post and tutorial here to show you step by step.
"You are the average of the five people you spend the most time with."
–  Jim Rohn
Who are you spending your time with? Do they support and share your vision? Do they lift you up, or bring you down? It can be difficult to step back and examine your current relationships, because you might not like what you see.
If you want to succeed in the film industry, you need the right people around you. You need people that share the same passion and vision, and the right people need YOU.
When you start joining communities, or volunteering at events keep an eye out for the people that could help you on your journey. Keep an eye out for those that align with your goals and spirit. Keep an eye out for the people you could see yourself becoming. These are the people you'll want to surround yourself with. These folks can be potential mentors, friends, or coworkers. Whatever you do, surround yourself with the right people.
Following Up
You want to be able to follow up with the people you find you have connection with. A great way to go about this is with a, "I saw this article and thought of you" email. If you are actively reading about the work you're interested in, and think this person aligns with your core values, sending an interesting article to a new acquaintance is a great way to follow up. Don't overthink this, it can be as simple as:
Hi _________!
It was great to meet you the other night at the holiday party for the film commission. I remember we talked a little bit about _________, and it made me think of this article I recently read. I've linked to it below, and would love to get your thoughts. Hope you had fun at the party!
Michael
If they respond positively, keep up the back and forth until you feel comfortable asking to meet up for coffee or a drink. This can be as formal as an information interview, or just some time to talk about the industry. Whenever I meet with someone I always like to follow up with a quick thank you note.
People are busy, and like to know that you appreciate their time. I always send something similar to this: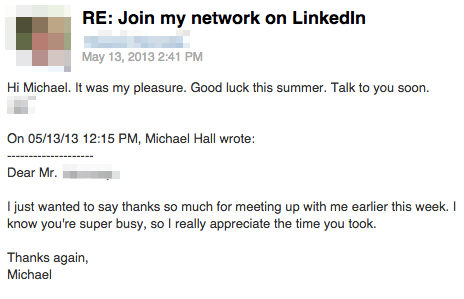 Again, nothing crazy. A couple sentences to show your appreciation can go a long way. Joining and building a community is essential to your growth. Surround yourself with people that inspire and challenge you, and your progress will skyrocket.
LIKE WHAT YOU'VE READ?
If so, please join our exclusive weekly filmmaking and production tips, and get a FREE COPY of our guide, The Top 4 Ways Filmmakers Can Make Money Online!