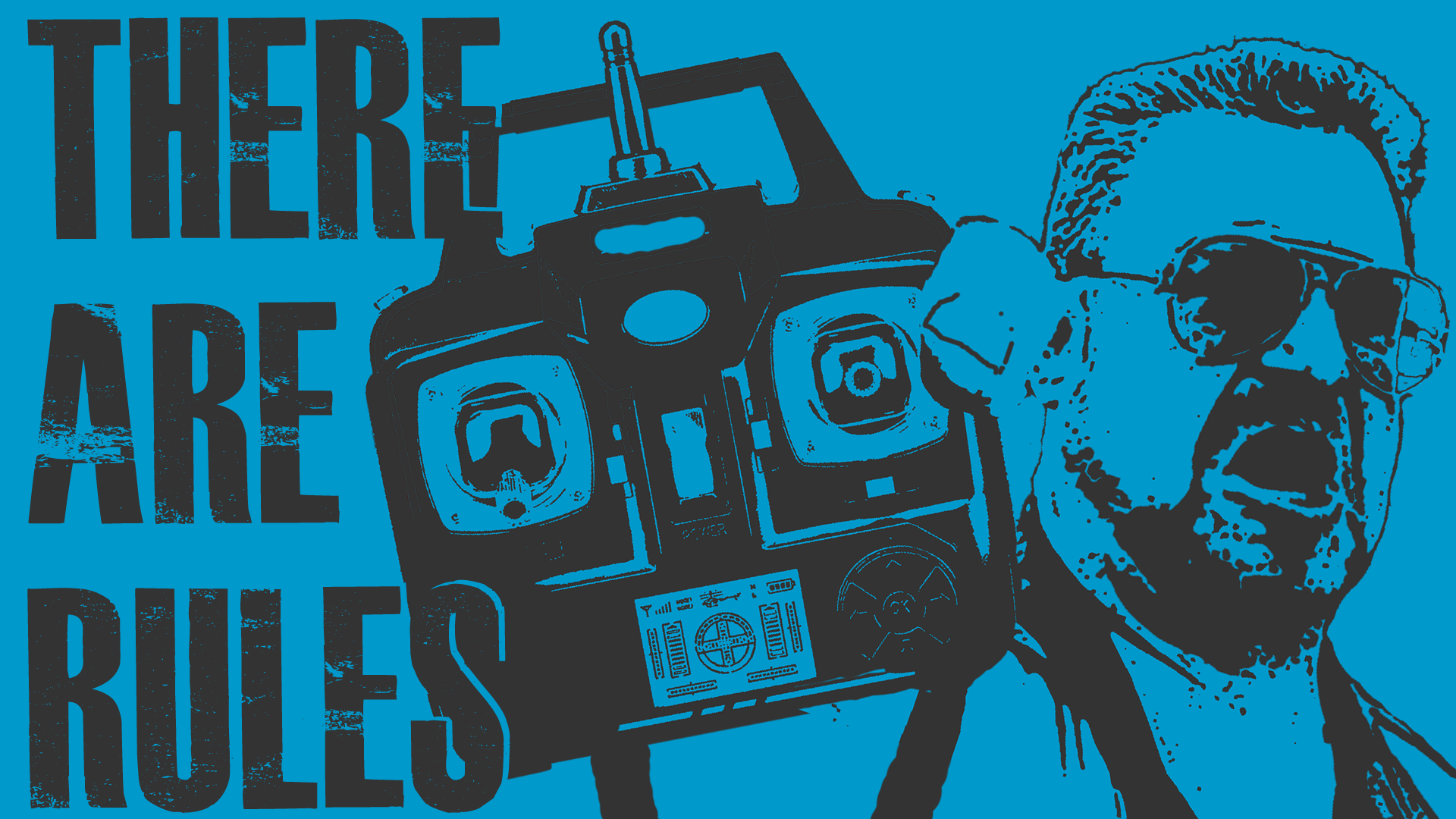 Read this if you are:
• An Independent Producer
• A Freelance Videographer
• A Director of Photography
Exploding in popularity for everything from sports videography and recreational use, to ecommerce delivery, drones are becoming a fixture of modern life.
In 2015, over $260 million in commercial drones were sold, and double that amount is forecasted for 2016. We can all expect to see more drones in the air and it's safe to say they'll become somewhat of a regularity in the sky as years press on.
Drones, or remote controlled copters carrying cameras, are phasing out helicopter shots, relegating them to an expensive thing of the past, and opening up aerial videography to the masses.
This unearths mounds of possibilities for filmmakers, both monetarily and artistically. Epic overhead footage is no longer reserved for Hollywood blockbusters.
But with great privilege comes great responsibility.
DRONES FOR FILMMAKERS
Most filmmakers are aware of drone's value to bolstering production quality at a low cost.
From a freelance filmmaking perspective, drones are being used for real estate videos, car commercials, corporate videos, promos, educational content, and much more.
They've created a micro-economy for skilled drone operators in the videography world.
For film producers and artists, they are an inexpensive way to capture sweeping cityscapes, sprawling nature shots, and overhead follow shots of everything from cars to a person on the run.
The doors that drones open for filmmakers are wide, varied, and leave quite a bit of room for exploration as drone technology evolves and grows even more accessible. But they also require a great deal of training, a functional legal understanding, and pose many risks.
POTENTIAL RISKS
After a recreational drone crash-landed on the White House lawn, things got serious for lawmakers and risks had to be addressed quickly.
Privacy risks are an ongoing topic of conversation among drone users, lawmakers, and civilians. The newfound ability for a consumer to spy through windows of homes and tall buildings, possibly catching glimpses of private or confidential moments is of huge concern.
Security risks such as an unidentified object crash-landing on the White House lawn are also pertinent. Afterall, drones can carry more than just cameras and even remotely controlled cameras can pose specific risks to national security.
Personal injury is always of the utmost concern with any accessible and powerful technology. Beyond the possibility of taking an eye out with a propeller under windy conditions, a mismanaged drone could fall 400 feet onto a vehicle or human being, causing serious damage.
Unlike rural landscapes, metropolitan areas present an array of obstacles for an untrained drone pilot that could result in injuries, damaged property, or worse.
And then of course, there are legitimate airspace risks. Air traffic interruptions can, at best ground a small aircraft in a hurry, and at worst disrupt or damage larger commercial aircrafts mid-flight, threatening passengers and crew.
This is why the federal government has taken steps to include drones in their airspace regulations.
WHAT IS AIRSPACE?
Wikipedia defines airspace as:
"The portion of the atmosphere controlled by a country above its territory, including its territorial waters or, more generally, any specific three-dimensional portion of the atmosphere."
For most intents and purposes, filmmakers will likely be using drones in "Controlled Airspace," or airspace that is monitored by air traffic control.
The United States has some of the most complex airspace in the world, with major cities housing international airports that handle hundreds of flights and landings per day.
Unidentified flying objects can ground many of those flights with a moment's notice, disrupt air traffic control, and risk the safety of flights already in the air.
The federal organization managing airspace—from transcontinental aircrafts to small hobbyist crafts—is responsible for managing the relationships of vehicles, and for ensuring no more crafts carrying anything land on White House property.
THE F.A.A.
The Federal Aviation Administration (FAA) manages United States airspace.
New laws and amendments are developed all the time to keep up with the rapidly growing drone market. These laws must encompass both recreational users, business users, and massive industry forces like Amazon and Google.
By FAA standards, drones are considered "Model Aircrafts," or "Unmanned Aircrafts (UAS)." This classification extends to recreational drones and large professional rigs that weigh more than 55lbs. The UAS category means drones aren't subject to the same laws as commercial airliners.
Then, there are subcategories: Hobby/Recreational, and Professional. I'll get into that later, when discussing licensing. For now, there are a few key rules that apply across the board to any drone in the air.
The FAA created the Know Before You Fly Campaign to inform the public on proper use of recreational drones. The campaign homepage includes this absolutely asinine video, which does somehow manage to get its point across.
Congratulations on surviving those miserable three minutes, and I'm sorry you'll never get them back. If you avoided the video, you're not only #blessed, but I've included the list of basic rules from their homepage here:
Fly below 400 feet and remain clear of surrounding obstacles
Keep the aircraft within visual line of sight at all times
Remain well clear of and do not interfere with manned aircraft operations
Don't fly within 5 miles of an airport unless you contact the airport and control tower before flying
Don't fly near people or stadiums
Don't fly an aircraft that weighs more than 55 lbs
Don't be careless or reckless with your unmanned aircraft – you could be fined for endangering people or other aircraft
So, were you to purchase an entry-level drone for $39.99, or a more involved 3DR Solo Drone Quadcopter, you would need to abide by the above regulations, or risk civil or criminal charges.
To my knowledge, only one rule on the above list does not apply to Professional drone operators: the weight limit. It is in fact one of the key dictators of whether or not a drone owner needs to get special authorization.
DO YOU NEED A LICENSE?
The parameters used by the FAA to differentiate between drone operators who do and don't need licenses are called Statutory parameters. They probably could have come up with a less harrowing term, but legalese is legalese.
Simply put, statutory parameters can be boiled down to two main questions:
Are you a Hobbyist or a Professional?

A recreational drone operator would simply need to abide by the rules of the previous section. A professional operator would be using their drone(s) for profit—be it cashing in on the footage it captures or using the device to deliver packages. Hobbyists are allowed to fly their drones without official authorization. Professionals who are using their drones and services for monetary returns need authorization.

What is your drone's weight?

The above mentioned 55 lb weight limit also relegates operators to either professional or recreational status. If your drone is under 55 lbs and not making you any money, no need for authorization. If it's over 55 lbs, whether money is being made or not, it is considered a professional craft and you need authorization.
Note: professional use of a drone, however large or small, would include film production, if that film has potential to be sold at any time, or money will change hands for its viewing. It's a good idea to work with a registered and authorized drone/operator for any film project.
Also Note: the FAA is not completely clear on whether the 55 lb weight limit includes just the drone, or the drone with its "payload" (a package or attached camera).
Basically, if your drone weighs 50 lbs and your camera weighs 10 lbs, you'll most likely need a license for operation. The FAA's official document states:
"Additionally, model aircraft are limited to 55 pounds or less. The statutory language does not specify whether it applies to 55 pounds unloaded or 55 pounds with other equipment, payload, or fuel, for example, on the aircraft. The FAA believes that Congress intended for the 55-pound limit to mean the weight of the aircraft at the time of the operation. If the weight of the aircraft, alone, was the determining factor then it could conceivably be loaded with equipment or payload increasing the weight of the aircraft at time of takeoff well in excess of 55 pounds, thereby increasing the risk of harm should the operation not proceed as planned."
AUTHORIZING + REGISTERING YOUR DRONE
FAA Authorization is free, though commercial drone owners meeting certain weight specifications will also have to register their drone, which only costs $5.
Authorizing your drone means you are free to use it for monetary gains, whereas drone Registration is like a drone pilot's license.
Registering your drone can be done quickly here, for $5.
The page outlines some specifications for what types of drones do and don't require registration, and I've included that link here. Be sure to check whether your drone requires registration (the column in the far right tells you) by either finding on the list, or comparing its size to one listed.
If you find your way to the authorization section of the FAA's website, it can seem super intimidating, as they use the term "Exemption," referring to the fact that you—the pro operator—want to be allowed to make money from your service.
The authorization process is a bit muddy and can currently take about 8-10 weeks to be reviewed and either approved or denied. Here are some helpful links to get you ahead in that process:
Once you've completed each of these steps and your petition is approved, you'll be ready to turn your drone skills into money!
THE TAKEAWAY
For a seemingly complex world, drone laws and the laws of the sky are relatively simple for filmmakers: either be a hobbyist or a professional
If the process and financial implications of buying and registering your own drone seem too daunting, you can always hire a professional in your area to take care of that for you. You won't have to handle any product or go through the Federal system.
But professional convenience can come at a steep price, so you should mainly focus on what you want out of your drone footage.
If you're in the game for higher quality cinematic drone footage and are inexperienced/unlicensed, seek professional assistance. If you own and have registered and/or authorized a quality drone rig, knock yourself out! If you're just having fun with friends, go for it!
And never forget about safety. Whether you or a professional are operating the drone, take the time to ensure that no one will be put at risk.
In any case, it's important to understand the laws governing drone operations, how they affect the work you aim to create, and how to maximize what the skies can offer your project!
Do you fly a drone or know something more about drone law? Tell us in the comments below! Thanks for reading 🙂
LIKE WHAT YOU'VE READ?
If so, please join our exclusive weekly filmmaking and production tips, and get a FREE COPY of our guide, The Top 4 Ways Filmmakers Can Make Money Online!