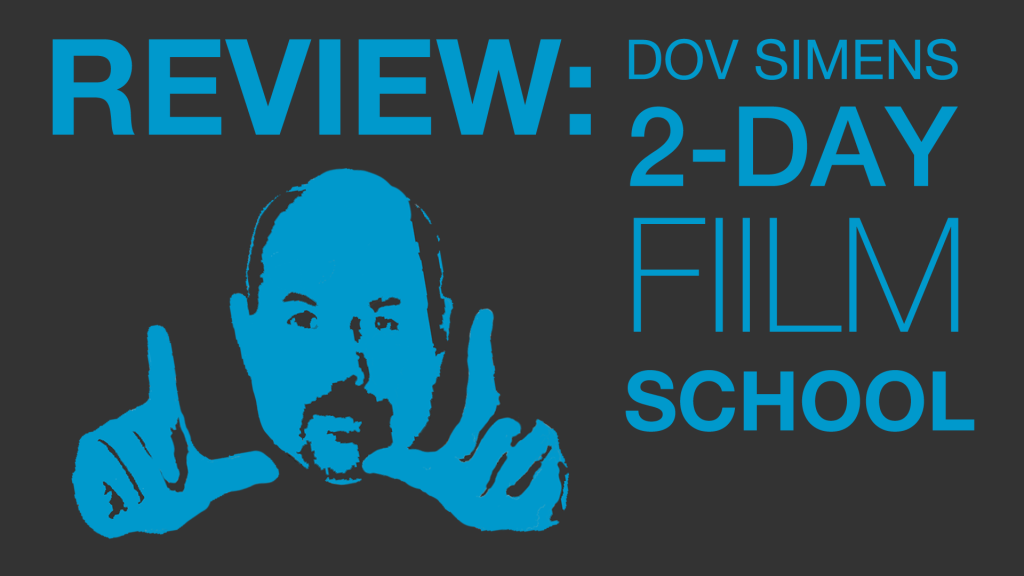 One day my phone buzzed at work, it was a message from Christopher, "I found an ad for "The Dov Simens Film Course" school in Movie Making Magazine. I really think we should go….it's in San Francisco."
Uhhh, what? A ten hour drive for a cheesy film seminar? "You realize we're both broke, right?" I asked.
"Dude, check out these testimonials, though." He sent me a link the Dov Simens Film Course website with a list of quotes from past students.

Whoa…wait…what?! THE Quentin Tarantino? No way. I guess Tarantino didn't go to film school. But a two day seminar?
I felt like I was being sold snake oil, but I kept scrolling.

Huh.
Really? It felt too good to be true. But there they were, tons of testimonials. Guy Ritchie, Queen Latifa, Christopher Nolan, the list went on. I started clicking through to his videos. It still felt kitsch, but his message resonated with me.
"Alright man, I'm in."
What are you going to do? If the class was terrible, at least it would be an interesting experience. In the back of my mind, I was really hoping for the best.
By this point, we had already made a feature film, but it hadn't gone too well. We had a ton of experience with gear, editing, and acting, but struggled to bring it all together.
We decided to find the cheapest hostel we could find in San Francisco for $15 a night since we were spending all our money on the film school.
Christopher pulled up to pick me up from my work in his auntie's Jeep. The licence plate read, "Siti". You know, "Grandma" in Lebanese. It was fitting for the trip we were about to embark on. After our 635 mile trek, we arrived at our dingy hostel with a ton of anticipation.
We were still unsure if we were going to get worthwhile information, or get taken for a ride.
DOV SIMENS FILM COURSE, WHAT YOU WILL LEARN
We showed up early Saturday morning to a packed hotel conference room. The staff handed us a thick itinerary with this listing for the FIRST day: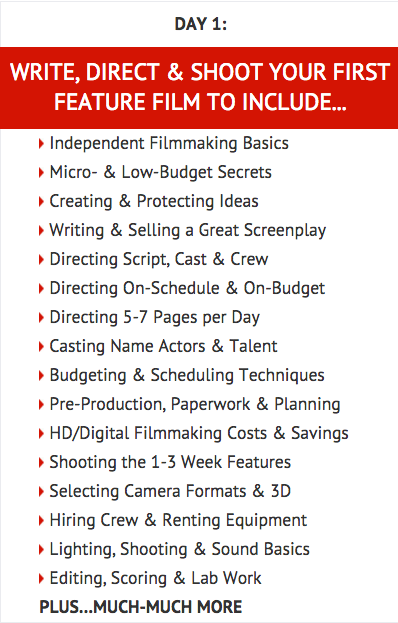 "Dang, there is no way we're going to get through all this." I thought to myself. Dov sat down and the room went quiet.
"FILMMAKING IS NOT AN ART." He shouted suddenly, "IT'S A BUSINESS." Okay, here we go…"IT'S SHOW BUSINESS, NOT SHOW ART."
He stared at the room, letting this sink in. This is an important point for Dov because it sets the stage for the entire seminar. Dov is pragmatic. He takes all romance out of filmmaking – stripping it to the bone, giving only the information you need to get your project made.  
This is something I could get into.
This is what we had been lacking in our first attempt to make a feature. We had tried to make our film off of a 150 page script, his advice? 90 pages.
We had a ton of locations with intricate plot. His advice? One location. I thought back to Reservoir Dogs – one location.
KISS – keep it simple stupid. We tried to do too much. This is a point he really stresses. If you are producing for the first time, you need to keep it simple.
Dov is no-nonsense, in your face, and at times politically incorrect. There's no fluff, he gives it to you straight. He gives you the steps to get your project done.
The first day was intense. It was a lot of information, and we made our way back to our hostel quietly, thinking about the wave of information that had crushed us. We took a look at our syllabus for the second day and saw just as much more information we needed to cover.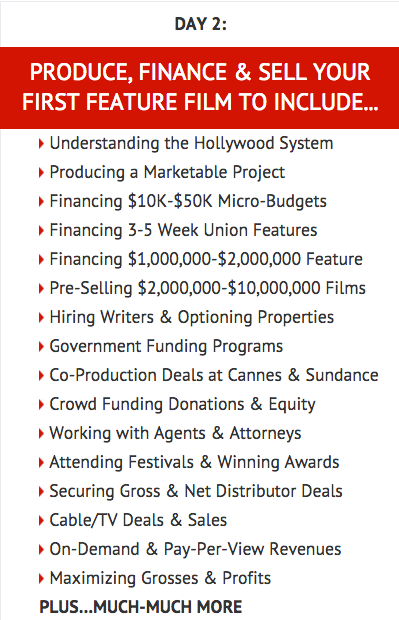 This time the goal of getting through everything seemed much more achievable now we knew the pace of the class.
At times, the amount of information was overwhelming. He could go on five minute rants, while we furiously scribbled notes, which sometimes wasn't enough to keep up.
Dov makes it clear – he isn't a filmmaker, he's a teacher. You're not going to get film theory, or the art of lighting and framing, but you WILL understand how to get a crew, get equipment, and raise money.
It was the most distilled information on the subject I've seen anywhere. It's straightforward and actionable.
Dov worked as a line producer for Roger Corman, one of the low-budget kings. Dov knows how to get stuff made on tight deadlines with no money. This information is exactly why we came. We are a couple young guys trying to get our stuff made with little to no money, and his tactics were really eye opening for us.
The information is all there. We were able to take what we learned and put it into practice and that's what you need to do. You also need to go into this class with the right expectations. Just because Tarantino and Will Smith came out of this class, does not mean you will have the same level of success.
Without using the information in the right way, and working hard at it, you will waste your money. If you're not willing to work hard with the information you're given, you're not going to make it. But isn't that how everything is with life?
Filmmaking is incredibly competitive, having this information will definitely help take you far, but it's up to you to take it to the next level.
DOV SIMENS FILM COURSE, WHAT YOU WON'T LEARN 
Nuts & bolts of filmmaking

Lens choices / camera angles

Craft

Editing
What I appreciated most is his repetition that you can't teach talent. It's true, you can't. What you can teach is process. The process of filmmaking is something that is so shrouded in mystery, it's tough to find real true information on how to get your stuff made.
If you're already an accomplished filmmaker this course isn't for you, it's for those early in their journey looking to get practical production advice quickly.
He goes through the range of budgets – starting at $5000 and works his way up to 10 million, showing how to get it done, step by step. His whole shtick it to figure out how much you can raise, raise it, and shoot it at that price.
The seminar will absolutely give you the tools you need to go out and make something happen. We both left feeling inspired. Within six months Christopher raised more than $11,000 for his documentary LIGHT, and was on a plane to Lebanon.
While I highly recommend the course, I will say that you will get the same exact information through his DVDs. While I enjoyed being there in person, and loved interacting with him, Christopher and I could've split the difference on the DVD's and saved a long ten hour drive.
The course flies by so quick that it probably would've been better to go back and rewatch a lot of the information. But if you really want to check him out in person, you can see his schedule here or get the DVD set here, which was updated in 2014.
The stuff I've gone through here is just the tip of the iceberg. The DVDs are 16 hours long, with practical, straightforward information. If you're serious about getting your project made, you need to check it out. As a disclaimer, the links in this article are affiliate links, but I think this is one of the most useful courses you can take. 
Have you taken the Dov Simens Film Course? If so, tell me your thoughts in the comments! 
LIKE WHAT YOU'VE READ?
If so, please join our exclusive weekly filmmaking and production tips, and get a FREE COPY of our guide, The Top 4 Ways Filmmakers Can Make Money Online!