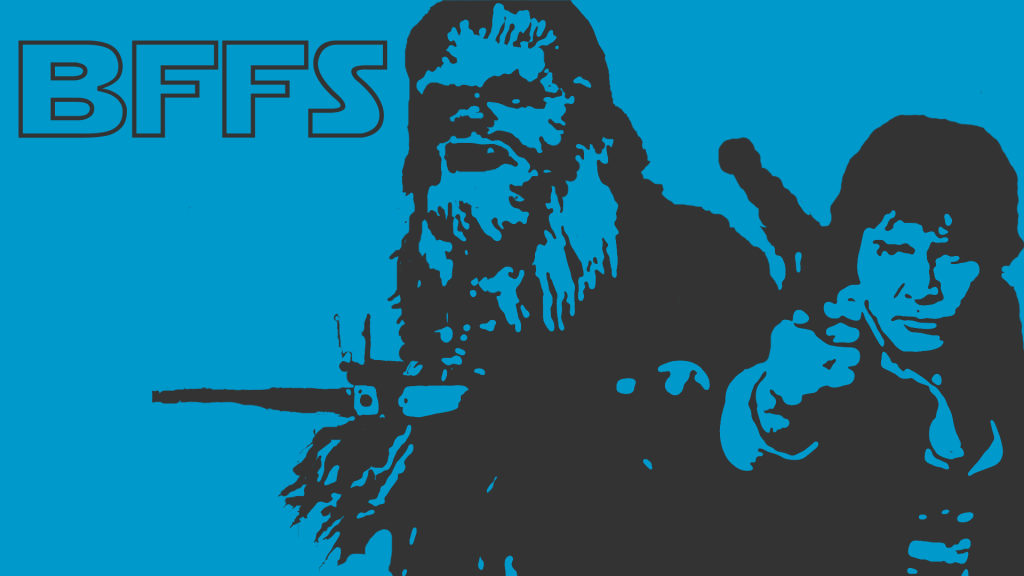 "My pictures are not yet good enough to compensate for the advantages I have enjoyed through you. But believe me, if one day they should be good enough, you will have been as much their creator as I, because the two of us are making them together."
— Vincent van Gogh to his brother Theo
"He was for long my only audience … But for his interest and unceasing eagerness for more I should never have brought [The Lord of the Rings] to a conclusion."
— J. R. R. Tolkien on C. S. Lewis
"We've got it. Everyone just stay the fuck away."
— Neal Brennan on working with his Chappelle's Show co-creator, Dave Chappelle
Creative collaborations are magic.
Like Chewie and Han, Marty and Doc, or Woody and Buz – duos are better than one. Thankfully Christopher and I met early and started hashing out our goals at an early age. If you don't know our whole story, you should check it out here. 🙂
We're lucky because we're on the same page. We've had the same goals and values from an early age and it's been tremendously helpful when we're helping each other get from A to B to C.
We have each other's backs.
I know the common belief is that there is a "lone" creative genius that create brilliant masterpieces. Kubrick, Scorsese, Coppola – these are all names that we associate with the lone geniuses. What we forget is that filmmaking is a collaborative effort. While these filmmakers are the core creatives of their films, they need help from other visionaries to make the vision a reality.
A few years back I read a fantastic article from The Atlantic, titled "The Power of Two." It tackles this misconception of the lone genius by breaking down the dynamic of The Beatles:
"For centuries, the myth of the lone genius has towered over us, its shadow obscuring the way creative work really gets done. The attempts to pick apart the Lennon-McCartney partnership reveal just how misleading that myth can be, because John and Paul were so obviously more creative as a pair than as individuals, even if at times they appeared to work in opposition to each other. The lone-genius myth prevents us from grappling with a series of paradoxes about creative pairs: that distance doesn't impede intimacy, and is often a crucial ingredient of it; that competition and collaboration are often entwined. Only when we explore this terrain can we grasp how such pairs as Steve Jobs and Steve Wozniak, William and Dorothy Wordsworth, and Martin Luther King Jr. and Ralph Abernathy all managed to do such creative work. The essence of their achievements, it turns out, was relational. If that seems far-fetched, it's because our cultural obsession with the individual has obscured the power of the creative pair."
John and Paul needed each other. They balanced each others strengths and weaknesses:
"The diplomat and the agitator. The neatnik and the whirling dervish. Spending time with Paul and John, one couldn't help but be struck by these sorts of differences. "John needed Paul's attention to detail and persistence," Cynthia Lennon, John's first wife, said. 'Paul needed John's anarchic, lateral thinking.'"
These kinds of partnerships don't just magically happen. You need to find the right person, not just anyone.
So what to you look for in a partner? Here are the 5 character traits I think are vitally important for a successful partnership:
CORE BELIEFS 
Having the same core beliefs and values is vital. There are going to be beliefs that shape the type of films you want to make, if these don't line up with your partner, the film WILL suffer. Ask yourself what is important to you and what you believe. This goes back to my blog post on the type of films you want to create. This is the essential question you need to ask yourself.
MOTIVATION 
Being a filmmaker is a weird thing and takes a highly motivated person. You're going to get knocked down and want to get back up over and over. Having a partner who can hang with you during these tough times and still want to make films is the type of person you need on your side.
ACCEPTING OF CONSTRUCTIVE CRITICISM 
This can be tied closely to motivation, but a creative partner must be willing to accept constructive criticism. Like John Lennon and Paul Mccartney, you're not going to agree on everything. You need to be able to have give and take with each other. Rather than getting defensive of your idea, it need to be able to grow and develop for the sake of the film and the process.
COMMUNICATION SKILLS 
Communication is a must have skill in the filmmaking world, especially with your close collaborators. You need to be able to bounce ideas off of one another without the other person becoming a yes man. I've talked before about how George Lucas surrounded himself with yes-men during the production of the Star Wars prequels. These people failed him. We need to have people surrounding us that can properly communicate the shortcomings of the film – your creative partner needs to be your most trusted advisor.
INTEGRITY
You MUST find someone with integrity, no ifs ands or buts. Integrity is the foundation to a creative business. If you're working with someone who has all of the other skills, but pulls money out of the production company checking account without telling you – get out. This is not the type of person you should be collaborating with. Integrity is the foundation for a good working relationship, and you need absolute.
I would love to hear about your creative partnerships – what do you value most in a creative partner? Let me know in the comments! 
LIKE WHAT YOU'VE READ?
If so, please join our exclusive weekly filmmaking and production tips, and get a FREE COPY of our guide, The Top 4 Ways Filmmakers Can Make Money Online!