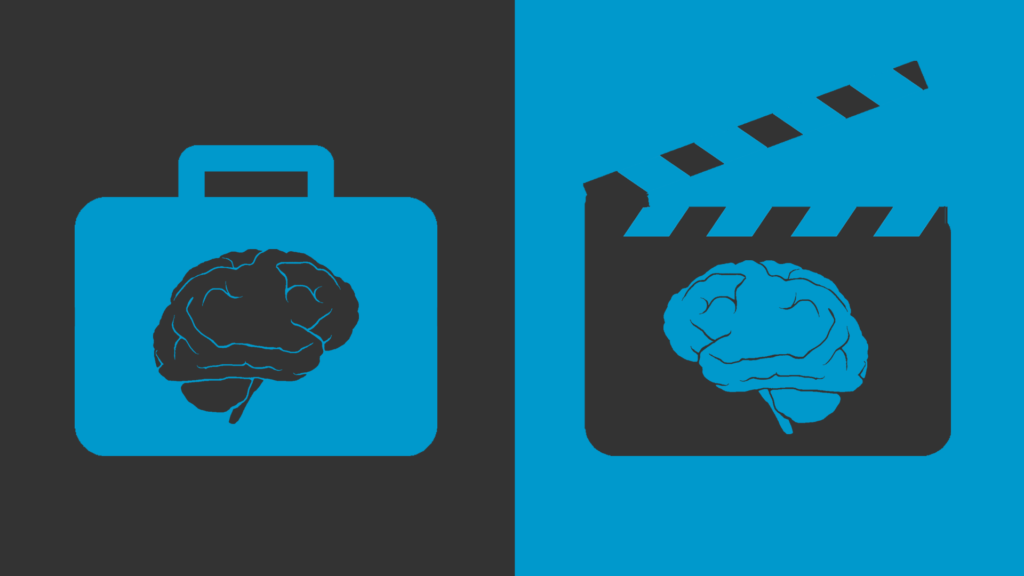 These are tips that I've learned over the years, and that have informed quite a bit of my growth.
Business and numbers do not come naturally to me. I'm right-brained. If you're reading this and you are too, fear not! If you think you're just wired a certain way and you'll never learn the business end, I'm begging you to think again.
I used to believe this about myself, but at a certain point I was tired of feeling victimized and intimidated by the money-people. Whether I was talking to clients or prospective financiers, I got tired of feeling like the "idiot" in the room. I wanted to meet them where they were and not fall victim to any misunderstandings or oversights.
So, I worked hard and over a couple years, I learned enough about business that I can now walk comfortably into a room full of MBAs and know I'm capable of keeping up. There's so much I don't know, but at this point there's even more I no longer fear.
I hope this post starts you off in that direction. There's nothing to be afraid of in business. It's an artform, in and of itself. And, business remains an unavoidable part of filmmaking. You might as well learn to love it!
1. READ THE FINE PRINT (OR FIND SOMEONE WHO CAN)
My mom (a.k.a. Mamma Sakr) always told me: "Chris, you gotta read the fine print. Always make sure your bases are covered." It took me a while to see, but this is sage advice.
Whether expanding into new tiers of freelance work, or producing feature films, you'll be exposed to a variety of contracts as your career escalates. It's essential to read carefully.
Contracts can be very intimidating, sometimes even by design—the more legalese a contract contains, the less likely most people are to read it carefully. In an age where we're constantly clicking "Agree" to terms and conditions without reading them, artists of all walks should remind themselves to pay close attention to the documents they sign.
There's no prerequisite to attend law school. However, I highly recommend familiarizing yourself with standard verbiage of some basic documents that relate to filmmaking and videography: Talent Release Forms, Independent Contractor Agreements, Nondisclosure Agreements (NDAs), and Copyright Assignment, to name a few.
Another great resource is the book The Pocket Lawyer for Filmmakers: A Legal ToolKit for Independent Producers, by Thomas A. Crowell. Having this handy will help you learn on the fly as new things arise.
Most importantly, if you come across something in a contract that's completely unclear, ask a professional. Whether you hire a lawyer, or have one in the family, review uncertainties with a knowledgeable party and never sign anything you don't confidently believe in.
Contracts are almost always negotiable.
2. UNDER-PROMISE AND OVER-DELIVER
This is something I learned during my years in retail, and it's served me well across my filmmaking career.
The concept is simple: if you're producing a project and you know it can be done in three days, tell your client you'll have it ready in four.
As I covered in this post, I firmly believe that 80% of good freelance work boils down to Managing Expectations. How you steer your client's expectations dictates much of their satisfaction.
If you deliver before an established deadline, your client will applaud your work ethic. If you're late by a day, they may never opt for your services again. If you're right on time and the work is good, everyone wins!
The same theory can be applied to feature or short filmmaking: films aren't made in a vacuum. they require many tiers of collaboration, from crew, to financiers or backers. Appropriate timelines satisfy all involved and enhance the probability of future returning collaborators.
3. BE REALISTIC WITH YOUR ASKS
Managing your own expectations is equally important.
Whether the location you wanted for a scene is inaccessible, your film's financing is contingent on some script changes, or a crew member refuses to accommodate your request, filmmaking is fraught with hurdles you must navigate with tact and dignity.
Falling prey to the myth of the renegade filmmaker who never compromises is all too easy. I'm guilty of it, as are many filmmakers who I know personally, and have observed. The thing we don't often hear is how frequently this behavior doesn't work out; how often it doesn't result in a masterpiece.
Collaboration is the cornerstone of filmmaking, and it requires much patience and compromise. While expecting the impossible can lead to mismatched priorities, bad communication, and generally tense productions, having logical and reasonable expectations for yourself and your collaborators makes for fruitful working relationships.
I think of it like this: the key to great leadership is not to avoid compromise but, instead to be aware of compromise from the outset, plan for it, and set reasonable limitations.
If you're confronted with an uncomfortable concession while making a film, try to avoid seeing it as an attack on your overall vision. Instead, see it as a challenge that could potentially improve your project if solved thoughtfully.
You can also investigate a partial compromise. Break problems into smaller parts and use some of them to construct a solution. This reflective, analytical approach will earn the respect of those you work with/for.
You're also less likely to be labeled "a pain in the a** to work with."
4. TIME IS MONEY: BUDGET ACCORDINGLY
While this seems simple, it is so often overlooked. So many large films are made on bloated and unnecessary budgets, but I see an equal disrespect for the time and money relationship with beginning and independent filmmakers.
Mike and I learned this lesson the hard way on our first feature, The Painted City. Many things we'd assumed would be easy and cheap were either put off until the end, or were so grossly underestimated that they required change when it came time to execute.
Independent filmmakers seem to assume, Robert Rodriguez made an action movie for $7,000, so I can so something less demanding for far less money. While this is true in many cases, things get tricky when you factor in other everyone else's time.
If you have a dialogue-heavy, single-location film, it's not unreasonable to assume your shoot will be rapid and inexpensive.
However, films like this often function like plays and require seasoned, trained actors who can treat dialogue memorization and performance accordingly. Actors like this often come at a higher cost than you might expect, and they're worth every penny you can afford.
It would be a mistake to cast inexperienced friends. Their amateur efforts will cost you more time and the often-needed reshoots will depend on their schedules. These and other factors all circle back to money.
Your time may seem free, but every hour you spend is an hour you could have been working for pay. The same goes for everyone involved.
When bidding on a freelance project, always add a budgetary cushion. Sometimes you have to work for free or cheap while building a reputation in the field. But, once you've surpassed that and feel comfortable with your asking price, build extra buffer funds into your bids. Most clients expect this, so it shouldn't intimidate you too much.
Never undervalue your crew's, your client's, or your own time. Everything comes at a price.
5. TEAMS ARE WORTH MORE THAN INDIVIDUALS
A relatively inexperienced filmmaker with a great script is a shaky investment proposition, but that same filmmaker and script attached to a cast and crew of seasoned professionals is financially compelling.
People with money look at the big picture. They want a guarantee that their money will yield a semi-predictable and desired product. In short, whether you're producing a commercial for a company or an independent film, those paying for it want to know the return on investment (ROI).
Here's a great way to fast-track career growth: if you're not necessarily the most qualified candidate for work, sell your vision and abilities to other collaborators who are.
By aligning yourself with reliable and reputable professionals who believe in you, will support you, and have great track records, investors and clients will have little reason to doubt your ability to spend their money well.
Hollywood scripts never see any daylight until a prominent actor or director are attached. If you are working on smaller budgets or projects, your collaborators can serve as stars who you attach.
Give other people in the field something to get excited about and believe in, and you'll see far more trust and interest from those who can pay the way for all of you.
6. LEARN THE LANGUAGE
Every language has its rhythms, inflections, and nuances. The language of business is no exception.
Investment bankers speak very differently than Hip Hop artists. Both can be equally intelligent, or stupid, but regardless, they have very different communication styles.
As I discussed with Timon Birkhofer in this interview, most people in the financial world don't hold artists in the highest regard. Especially when confronted with the possibility of giving them money.
Just as you wouldn't walk into a Hell's Angels Biker bar wearing a speed-o and preaching about the power of love, it is ill advised to enter a pitch meeting talking only about artistic integrity and aesthetics. You'll never get a call back and, I'll save you the suspense: they may laugh at you behind your back.
While I'm being humorous, the truth is that filmmaking requires money, and people with money rarely care about filmmaking.
If you're bidding on a project for a company, or pitching an investor on your film, take some time to meet them where they are. Dress in a way they can appreciate, make eye contact, speak confidently, give a firm handshake, and most importantly: tell them how your project will benefit them.
The harsh reality is that virtually no one invests in art for art's sake. Even in crowdfunding, people put their money on talent and cool-factor; with traditional investing, the allure for potential financiers is in the possibility of a hit.
To sell anyone on cool-factor or hit potential, you have to know your audience and refine how you approach them.
7. UNDERSTAND WHY THINGS SELL, OR DON'T
It's beneficial to have a realistic view of what makes money, why, and how?
It's easy to criticize large tentpole franchise films for being vapid, safe, or uninteresting, but the fact remains: these films do make money. There is somewhat of a recipe for broad financial success with a movie.
This is not to say you should follow that recipe to raise filmmaking funds, and it's certainly not to say you should deceive a potential financier. But, maintaining a realistic understanding of your project's potential reach, and how other projects like it have historically been received is imperative.
Clearly mapping this information out not only proves you've come to your budget intelligently, but it also shows your great respect for money.
8. KNOW YOUR PROFIT MARGINS
Profit margins refer to the percentage of every dollar, per-sale, that a company keeps. If you have a product that costs $25 to make, $25 to package and sell, and you charge $100 for it, your profit is $50, or 50%.
Profit margins are valuable for pragmatically pitching commercial work and for independent film fundraising. A properly budgeted project appears achievable under the constraints of that dollar amount, while not seeming inflated.
The margins are also affected by ownership (which is where familiarizing yourself with legalese comes into play). If you have 7 financiers on a film that means any profits will be distributed no less than 7 ways.
If you want to produce a niche film for $800,000, you've done some research, and there's a potential audience of around 7,000 people, then your margins may will likely be called into question.
For your investors to make back the $800K they put in, your film would need to be rented for $5.99 on iTunes a minimum of 133,556 times. It would need to sell no less than 66,667 $12 theater tickets, or at least 32,000 Blu-Rays.
The 7,000 potential audience members you identified couldn't make your investor's money back, in any scenario.
Your proposed budget should be tied to well documented and reasonable margins. Anyone in the position to pay for a project will calculate these margins, whether you do or not. It's best to be prepared.
Were I in the position to pitch that niche movie, I would frame it as follows:
There is a verified, active fan base of around 7,000 people who are eager to see a project like this. If half of them rented on iTunes for $5.99, we would make back $20K. If they bought a $12 theater ticket—not factoring in the theater's cut—we'd make $42,000.
I always break forecasted audiences in half. It's rare that even 50% of interested people pay. If you want to be more realistic, lean more toward of your forecasted audience will be paying customers 12%.
Working with a 50% estimate for ease of this example, the only logical financial solutions would be to either:
Cut the budget down from $800,000 to between $20-30,000
Investigate additional audiences
Restructure the movie to appeal broader
9. IT HELPS TO UNDERSTAND BUSINESS PLANS
While I certainly recommend having a business plan for each of your films, especially in the beginning, the most important recommendation I have with reference to them is to understand what they represent.
A business plan is a written document outlining any pertinent data and details relating to your business, and mapping this data into a plan that maximizes your business's impact.
A business plan for a film would discuss the nature of the movie, who its audience is, why you believe this to be true, and what the financial viability of the film is on the market? Business plans should be highly researched and detailed, but should remain short and visual enough for their reader to get through them quickly.
For more on business plan structure, click here.
It's important to understand business plans because they provide excellent insight into what people in financial fields or investing positions are most interested in. They are very streamlined documents that open up a window into how money-people think.
These insights help you accommodate your clients' of financiers' needs, and communicate with them in a way they can relate to, because your motivations better align with theirs.
To understand business plans is to get a small and semi-functional business degree. Adding them to your fundraising process places a tool in your arsenal that shows business-minded left-brainers that you're a long term, big picture thinker, but you take the time to develop tact and a road map.
THE TAKEAWAY
There are thousands of other business-related factors that affect whether your project can be considered financially viable to someone else. What is the end-goal for the project? If it's a feature film, how do you plan on marketing it?
Combining an ever-growing knowledge of business with a good deal of experience, the business of filmmaking will cease to be an intimidating beast, and will blossom into just another part of the filmmaking process.
What's your #1 piece of business advice for right brained filmmakers? Tell us in the comments!
LIKE WHAT YOU'VE READ?
If so, please join our exclusive weekly filmmaking and production tips, and get a FREE COPY of our guide, The Top 4 Ways Filmmakers Can Make Money Online!