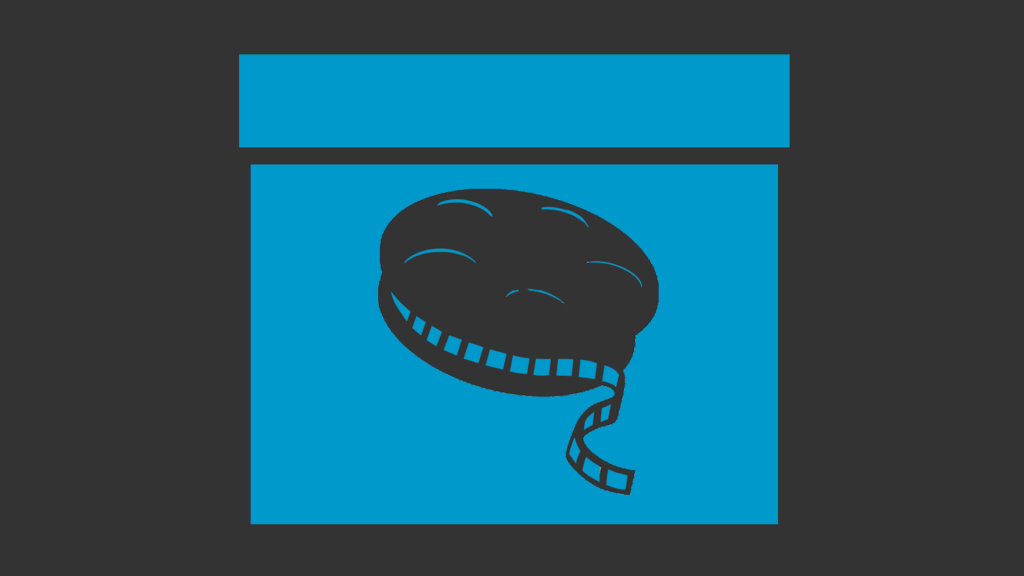 My parents saved things: either of their personal storages holds a timeline of my life in the form of school papers, teacher notes, drawings, stories I made as a child, clothing, and other mementos.
I never look at these things and I'm sure they don't either, but the idea of recording my life through creations that have accumulated along the way stuck with me.
As filmmakers, we amass a good deal of recorded history: paperwork, toys, art, discs of saved documents (yeah, that's antiquated), and all sorts of items that remind us of every step in our filmmaking journey.
I'm sure some folks trash this stuff  or just lose track after a project ends. I've opted to strategically save things.
This post explains why that's been essential for my growth, helpful in the dark times, and why I think we could all benefit from keeping a box.
WHAT IS A FILMMAKING BOX?
A filmmaking box is your personal recorded filmmaking history, collected in a singular location.
In the digital age, a lot of that can be done through harddrive archiving or in the cloud, but you'll undoubtedly amass solid items—landmarks.
Every time I finish a project, I sort through all the paperwork and left-behind items and decide what is worth keeping. If I deem something worthwhile, I add it to a box that I keep in my basement storage space.
Every once in awhile, I go check on the box, pop it open, and shuffle through its contents. This revisitation serves many purposes, chief of which is as a reminder that the filmmaking road is long, but I've grown and expanded.
Revisitation has almost become a tradition. It occurs about once a year, or in times of great need. I learned how this practice can assist in hard times during my early twenties.
HOW I DISCOVERED THE BOX'S IMPORTANCE
When I was 21 I found myself in crisis. Michael and I had invested every free minute for the better part of a year and half in creating our first feature film, The Painted City.
Amidst that madness I was operating on little sleep through an endless course of obstacles. I was a college student who worked nearly full time and had only somewhat of a life with friends, family, and relationships.
Things got dark and I was extremely overwhelmed. With Mike in another city at school, everything about Painted City seemed impossible, no matter how much time I put into it.
One Saturday, while cleaning out my old bedroom at my Mom's house, I found myself on the closet floor in complete exhaustion. I turned to my right and saw, tucked in a corner, a cardboard box.
I opened it up and discovered a script, then another script, then another. There were binders, pages and pages of storyboards, small notes, concept art, handwritten stories, MiniDV Tapes (again, I'm a geezer) and more.
I had no recollection of consolidating this stuff, but apparently in high school I'd had the forethought to save everything film related I'd done since I was 12 years old.
I'm not ashamed to say that this discovery came at such a perfect time, I cried while I went through the box. I left that afternoon, box in the trunk of my car, back on track and prepared for anything.
I felt like a kid again, discovering filmmaking for the first time. Suddenly I remembered what made me fall in love with the form to begin with.
This box has been carried through three different living situations. It has transitioned from a cardboard box to a more secure and waterproof plastic bin. Its contents have expanded.
If ever I'm at a loss, feeling stifled, need inspiration, or simply want to remember a chapter in my life, I visit the box. It saved me from a few years worth of "writer's block," got me inspired to make my Lebanon documentary, Light, and generally makes me smile without even opening it.
It's been fun to share with Michael and others close to me over the years. I feel it's the best representation of who I am, all in one place.
WHY DO YOU NEED ONE?
You chose to be a filmmaker: a very difficult path. I've seen more people give up on the dream than stick with it, and you'll invariably get discouraged at many points.
Keeping and visiting a box serves a few distinct purposes:
Timelines create perspective.

Every time you add an item, you're reminded of how you got to that point.

Focus is key in filmmaking.

Keeping track of important mementos throughout a project so you can add them to the box actually enhances your focus on what's most important to your work.

Sometimes things don't stick in a project.

Keeping records helps you revisit why, why not, or if there's something excised from old endeavor that you can bring to a new one.

Time changes money.

If you're able to access your facilities from when you were young and had no money, you'll have a constant reminder of the possibilities available without a budget.

Plans change.

Most of us have scripts we wrote that never got made or ideas that never got developed. When you're at a loss for what to do next, you may find a clue in the box. I found a note about making a documentary in Lebanon in my box, which lead me to develop Light.

Hard work can go forgotten.

It's easy to forget the intricacies of any project, but I can assure you that revisiting old details will make days from 5-10 years ago seem like yesterday. This can help you problem solve current dilemmas or technical concerns.

Humility needs to be refreshed.

It's easy to get cocky as you grow in your craft, so it helps to have a leveling force. Again, this goes back to perspective. Seeing what it took to get you where you are will remind you that there is still so much ahead, and that you weren't always as confident as you are now.

Confidence can be hard to access.

On the opposite end, sometimes you need a pick-me-up; a reminder that "this is what I do, it's what I've always done, and I'm going to keep doing it forever." This is why I smile just looking at my box: its very presence is a reminder of my singular path.

We're nothing if we're not growing.

Having

one place

to access your past in an effort to find new ways of growing as a filmmaker streamlines your personal journey.

We rarely change as much as we think.

Sometimes we hit a creative wall because we're

too

obsessed with growing and changing. The thing about my box that invariably pushes me through bad times is, it illuminates my roots and the fundamentals that have always inspired me to create.
MAINTAINING THE BOX
Here's a short list of things I tend to save in my box:
Scripts.

I like to keep produced and even unproduced screenplays in the box. Completed versions and drafts are both stored there so I can remember the process of coming to a finished product.
Storyboards.

I've always loved drawing my own storyboard thumbnails for reference during shooting, and to plan general structure. These make for enjoyable visualizations to revisit and compare to a finished work.
Small props.

After each project, I like to save one small prop that encapsulates the project in some way.
Paper work.

I like to gather schedules, shot lists, contracts, and other associated documents into a folder or binder and store them in the box. It can be enlightening to watch the scope of these documents grow as years pass.
Notes.

I'm an avid note-taker; whether script-notes or a story idea written on a napkin, I like to file all of them in the box like receipts for tax expenses.
Storage devices.

Depending on the expense of the device and the importance of the content on it, I keep everything from old disks to archived drives in the box. IMPORTANT NOTE: this is not recommended for hard drive storage unless you're able to manage the temperature and conditions surrounding your storage area. Where I store my box, the temperature is generally well managed and the climate is dry. The box is also plastic, so it would withstand some water exposure.
WHEN TO VISIT IT?
Once you've started keeping the box you're free to pay it a visit any time you want. You may forget about it for a long period of time, then one day remember and want to go take a look.
You may open it up when you're searching for a new concept to write about, or an old one to breath life back into.
You may scan through old storyboards to find a shot you never got to use, but always liked.
You may find an old note that you'd stored away for a rainy day.
Filmmaking is storytelling, and sometimes reliving your own story wakes you up to parts of your voice that may have slipped into the cracks. Irrelevant of the circumstance or catalyst, sifting through your box surrounds you with history and puts you back into your own sense of craft.
Have a different tactic for storing old things and reconnecting with your roots? Tell us in the comments below! Thanks for reading 🙂
LIKE WHAT YOU'VE READ?
If so, please join our exclusive weekly filmmaking and production tips, and get a FREE COPY of our guide, The Top 4 Ways Filmmakers Can Make Money Online!